Harvey Diamond Quartet with Phil Grenadier, Joe Hunt and Jon Dreyer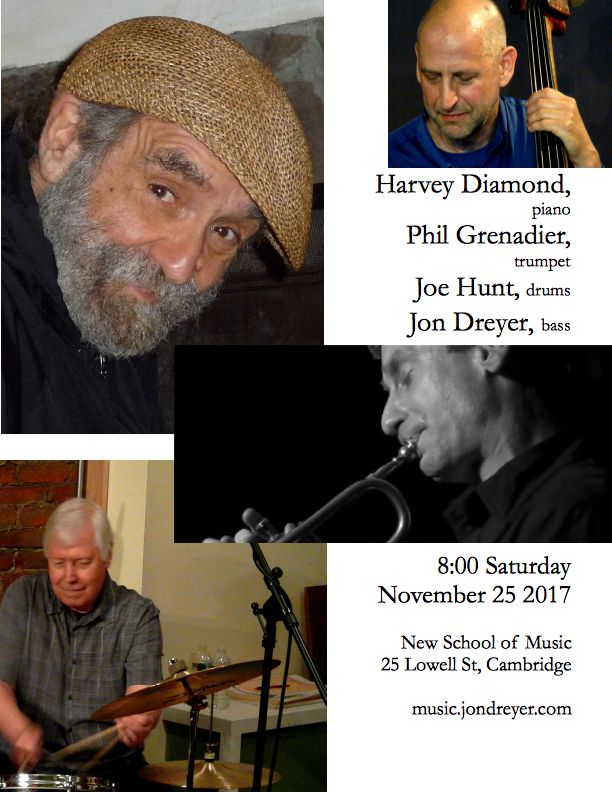 Saturday, November 25 2017, 8:00 pm. Jazz concert featuring Harvey Diamond, piano; Phil Grenadier, trumpet; Jon Dreyer, bass; Joe Hunt, drums. At the New School of Music, 25 Lowell St, Cambridge MA. Walk from Harvard Square, take the #71 or #73 bus, or park free in the lot behind the school. Doors open at 8:00.
The legendary jazz pianist Harvey Diamond has graced the Boston area for decades with his music which is at once both deeply intricate and deeply emotional to even the most casual listener. Over the years he has performed across the U.S. and in Europe. among Lennie Tristano's last students in the 1970's, and has done concert appearances with NEA Jazz Masters Sheila Jordan, Dave Liebman, and Art Farmer, and also with Charles Neville, Herb Pomeroy, Harvie S, Jay Clayton, Joe Hunt, Don Alias, Jason Palmer, Cameron Brown, Marc Johnson, Marcus McLaurine, and many others. After decades of patience by his fans, he has finally released his first CD as a leader, The Harvey Diamond Trio.
Throughout a career that spans nearly three decades, trumpeter Phil Grenadier has emerged as one of jazz's most imaginative and innovative players. His two albums as leader, 2000's Sweet Transients and 2003's Playful Intentions, have won him copious international acclaim, while his collaborations with a broad array of notable musicians demonstrate the raw talent and adventurousness that led the San Jose Mercury News to call him "a trumpeter of rare fluency and depth." He has performed with Ella Fitzgerald, Mel Torme, George Shearing, Tony Bennett, Carlos Santana, James Brown, Sammy Davis Jr., Dionne Warwick, Bob Belden, Richie Beirach, Ethan Iverson, Bill Stewart, Kurt Rosenwinkel and Jeff Ballard, Steve Swallow, Kenny Barron and countless other greats.
Speaking of legendary, drummer Joe Hunt combines complexity with relentless swing and sensitivity to what's happening around him. this is why Bill Evans invited him to join his trio, why Stan Getz invited him to join his quartet, and why almost the entire history of jazz has shared the stage with him, including George Russell, Chet Baker, Eric Dolphy, Dizzy Gillespie, Dexter Gordon, Charles Mingus, Bob Brookmeyer, and Herb Pomeroy. It's also why Harvey invited him to this performance.
Bassist Jon Dreyer is one of Harvey Diamond's closest collaborators. He also performs regularly with James Merenda, both as a member of his band TickleJuice and also in more mainstream jazz settings, and has performed with most of the Boston jazz community, including Jason Palmer, Adam Janjigian, Yoko Miwa, Frank Wilkins, Dominique Eade, Joe Hunt and Steve Langone.
There will be no set list and no charts. Anything can happen. Listen to what Warne Marsh called "the spontaneous creation of beauty."
Please like me! • Jon Dreyer • 781-696-2614 • 341 Red Acre Rd, Stow MA 01775-1185 • email