The Harvey Diamond Trio with Harvey Diamond, piano; Francisco Mela, Drums; and Jon Dreyer, bass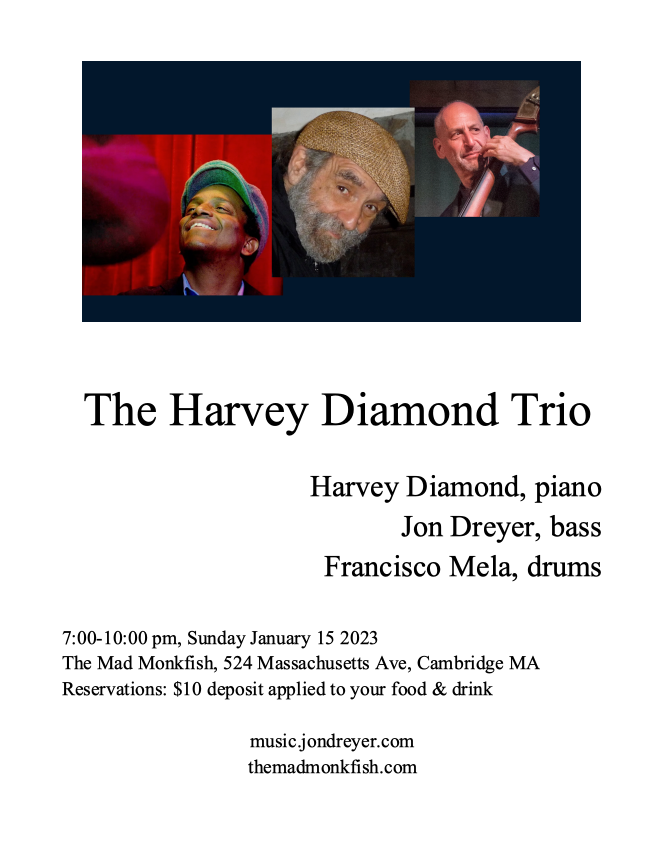 Sunday, January 15 2023, 7:00-10:00 pm. Harvey Diamond, piano; Jon Dreyer, bass; Francisco Mela, drums. At The Mad Monkfish, 524 Massachusetts Ave, Cambridge MA (more info, reservations (scroll down to Live Jazz Room))
The legendary jazz pianist Harvey Diamond has graced the Boston area for decades with his music which is at once both deeply intricate and deeply emotional to even the most casual listener. Over the years he has performed across the U.S. and in Europe.
A student of Lennie Tristano through Tristano's last decade, Harvey has performed with NEA Jazz Masters Sheila Jordan, Dave Liebman, and Art Farmer, and also with many other great musicians including Charles Neville, Herb Pomeroy, Harvie S, John Scofield, John Abercrombie, George Mraz, Jay Clayton, Joe Hunt, Don Alias, Billy Drummond, Francisco Mela, Jason Palmer, Cameron Brown, Marc Johnson, and Marcus McLaurine. After decades of patience by his fans, he has finally released some recordings, including It Could Happen To You (Apple Music) with Domenic Landolf, Arne Huber and Jorge Rossy (2019); Look Up For Down with Hannah Rose Diamond, Jamie MacDonald, and Claire Arenius (2019); Fair Weather with Cameron Brown (2018); and The Harvey Diamond Trio (Amazon, Apple Music) with Marcus McLaurine and Satoshi Takeishi (2015).
He has performed at New York's Mezzrow, Kitano, Apollo Theater, The Drawing Room, the Cornelia Street Cafe and The Stone; Minneapolis' Crooners Lounge; Boston's Regattabar, Scullers, Ryles, Mandorla Music Series, and Acton Jazz Café, the Vermont Jazz Center and many others venues. He has been a guest on WGBH Radio on Eric Jackson's Show Eric in the Evening and at the Lennie Tristano Symposium for two years, including this perfomance at the 2007 Lennie Tristano Symposium. He has performed at the Boston Globe Jazz Festival, was the featured pianist at MIT's Herb Pomeroy First Memorial Concert, and at the New Hampshire Jazz Festival with Sheila Jordan.
Harvey has been on the faculty of the Vermont Jazz Center since 2003; has done workshops at the Royal Conservatoire The Hague; Boston University; University of Massachusetts, Lowell; and at the University of Southern Mississippi, Hattiesburg, Mississippi. He is a revered private teacher, carrying the legacy of Lennie Tristano. He teaches piano of course, but also jazz and improvisation with other instruments and voice. He currently has openings. Please contact Jon Dreyer to find out how to reach Harvey directly if you are interested in studying.
Harvey has been described as one of the unsung heroes of the Boston jazz scene since the mid-1960's, both as a performer and as a revered teacher. He plays with a rare combination of technique, intellect, subtlety and heart.
Drummer Francisco Mela is a favorite among jazz's best performers including Chucho Valdés, Joe Lovano, Kenny Barron and McCoy Tyner. Born in 1968 in Bayamo, Cuba, Mela moved to Boston in 2000 to attend Berklee College of Music, where he now teaches. Since then he has become an integral part of Joe Lovano's quartet, McCoy Tyner's trio, and Kenny Barron's trio, and has expanded his vision as a bandleader. In addition he has worked with Esperanza Spaulding, Lionel Loueke, Joanne Brackeen, Jane Bunnett, Anat Cohen, and many others. Mela has released four albums as a leader, all receiving positive critical acclaim. His newest project, "FE," is with the latest iteration of his Crash Trio with pianist Leo Genovese, bassist Gerald Cannon and special guest John Scofield. Mela has also been working with new rising star Kris Davis.
Bassist Jon Dreyer has performed with NEA Jazz Masters Dave Liebman and Sheila Jordan, and also with Harvey Diamond, James Merenda, Adam Janjigian, Doug Johnson, Yoko Miwa, Hankus Netsky, Alan Rowe, Mark Shilansky, Alexei Tsiganov, Frank Wilkins, Jerry Bergonzi, George Garzone, Grace Kelly, Roy Nathanson, Dominique Eade, Jason Palmer, Phil Grenadier, Harvie S, Mike Connors, Scott Goulding, Bob Gullotti, Joe Hunt, Steve Langone, Miki Matsuki, Austin McMahon, Francisco Mela, and most of the rest of the Boston jazz community.
Mostly self-taught on bass, he has studied with Richard Davis, Cameron Brown, Marcus McLaurine, Harvey Diamond, and Ran Blake.
He is also a mostly classical cellist. He has studied cello with Glenn Garlick, Ervin Klinkon and Ben Levinson, and as well as a master class with János Starker. He was a member of the Boston Philharmonic and the Fairfax Symphony and has performed with the Masterworks Chorale, the Kennedy Center Opera House Orchestra and the National Gallery Orchestra.
Please like me! • Jon Dreyer • 781-696-2614 • 341 Red Acre Rd, Stow MA 01775-1185 • email